Rent our apartment in Nerja in Spain
The area, in which the apartment is situated, is called Capistrano Playa and is built in several storeys. It has an astonishing garden with an artificial lake with turtles, fish and waterfalls.
Book now
View images
This lovely apartment is found high above the Burriana Beach. The huge balcony is bathing in sun from early morning to late evening and comes with a magnificent sea view!
Apartment with 2 bedrooms. Sleeping 4 persons
Lovely terrace with sea view
200 meters to beach & shops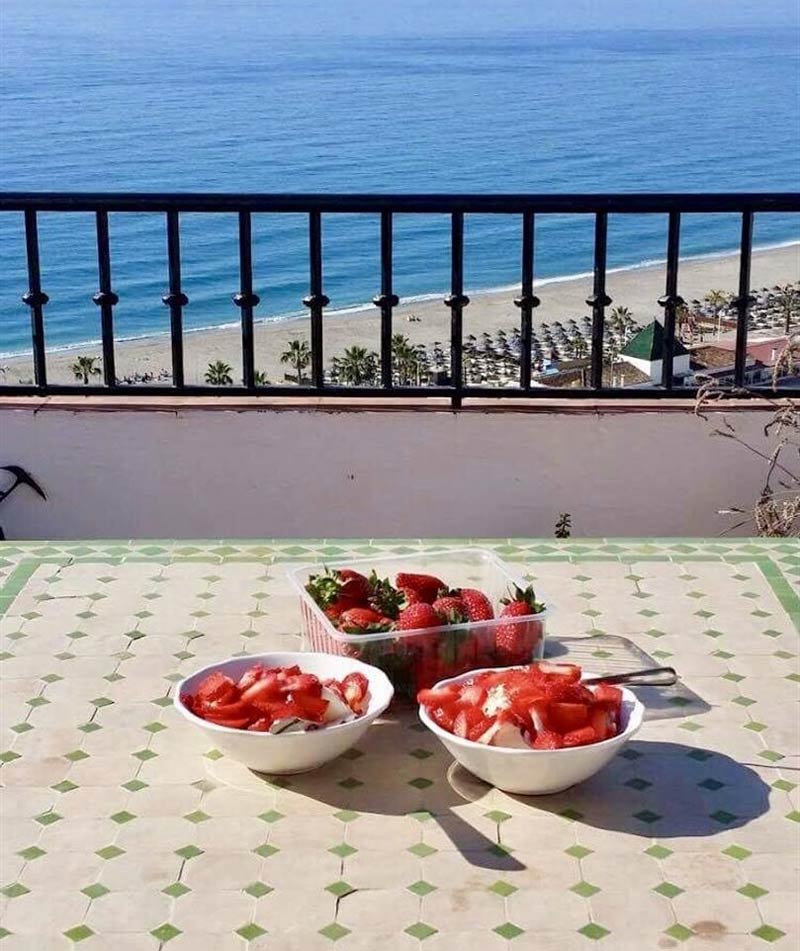 Breakfast on the terrace!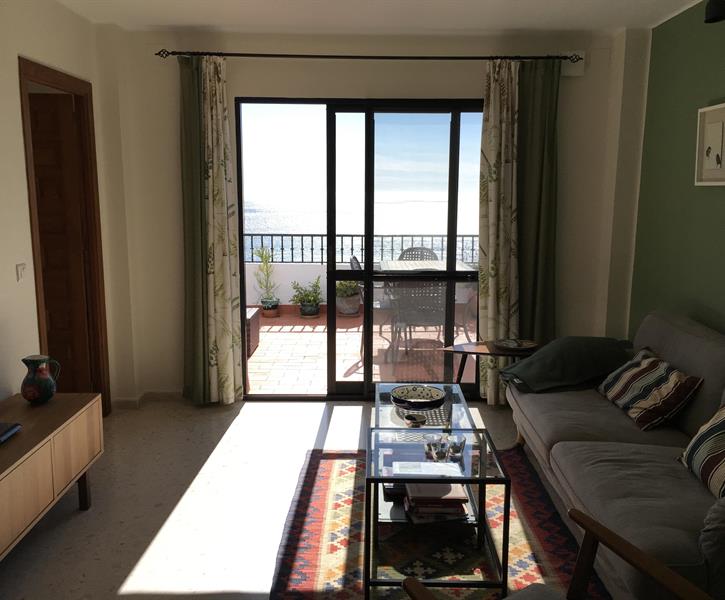 The apartment is facing south and have a huge balcony of 27m2 with blinds for sun protection when needed.       Wifi included.
An old charming town called the Pearl of the Suncoast with white houses and small alleys with a well-preserved town center, earlier a small fishing village.
Here is a lot of restaurants, cafés and pubs with a nice and relaxed atmosphere.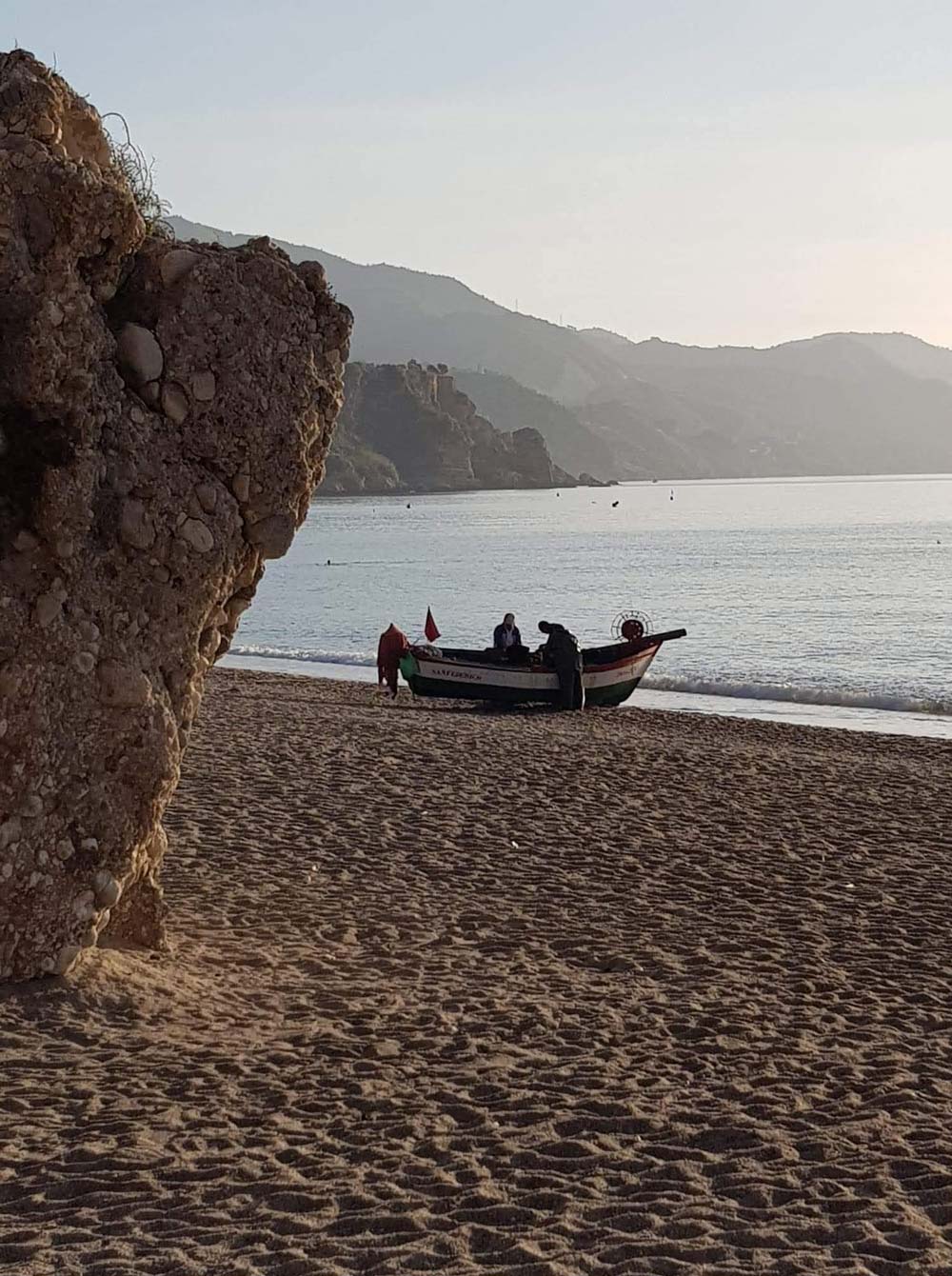 En pärla på Burrianastranden
Vi älskar verkligen Casa Milton, andra gången vi hyr. Terassen är fantastisk med sol från morgon till kväll. Stor markis att rulla ut om solen blir för stark. Härliga loungemöbler, solsängar och stor matgrupp. Mycket välutrustat kök, med två kylskåp och micro.
Vi uppskattar verkligen tystnaden i området. Eftersom vi har bil är det skönt att kunna ställa bilen i svalt kostnadsfritt garage. Vi planerar redan nästa resa här.
Fantastiskt lägenhet och med bästa läge
April 2022: Vi har haft 14 dagar i Nerja och här har vi njutit av utsikten från lägenheten Casa Milton som är belägen i ett soligt läge hela dagen . Kontakt med hyresvärd Patrice har fungerat till 100% som svarar snabbt vid frågor. Ett tips är att man har bil när man bor i detta område då det är en bit att gå till stranden, affärer och centrum, (speciellt när man har lite svårt att gå i de 240 trapporna var våg ner/upp till stranden). "Poolen som tillhörde området var fräsch och fin och i lägenheten fanns allt man behövde. Nybakat" med surdegsbröd och kanelbullar vid Burrianastranden blev vår favorit.
Vi kan varmt rekommendera detta boende och vi kommer gärna tillbaka.
Hälsningar Kenneth och Elisabeth Wikberg Tjörn
Fantastisk beliggenhed og god service
Lejligheden ligger helt Fantatisk med sol på terrassen fra formiddag til sen aften, og med den smukkeste udsigt udover Middelhavet. Super god service og kommunikation med Patrice, og hurtige svar på alle spørgsmål. Helt sikkert et sted vi kunne vende tilbage til.
Capistrano Playa 709
Casa Milton är en mycket trevlig, fräsch och fin lägenhet med en underbar terrass , panoramautsikt över burrianastranden och Medelhavet. Här hade vi en härlig vecka, återkommer gärna.
Häftig lägenhet !
Jättsnabb och smidig kontakt med uthyraren Patrice som var väldigt tillmötesgående. Vi var två vuxna och en treåring. Lägentheten hade mycket bra läge , sköna sängar och stor terrass med underbar utsikt. Terrassen är perfekt om vädret är lite tråkigt då man bara kan ta ett kliv ut när solen tittar fram . Kikare är ett måste för den som vill spana på delfiner från terrassen, vi hade turen att få se ett stort stim som hoppade några hundra meter ut från stranden.
Lägenheten passar perfekt för längre vistelser och även större sällskap.
Rekommenderas starkt till den som vill ha avskildhet men ändå nära till det mesta. Plus för extra handukar och lakan att byta med.
Underbart läge!
Ett mycket trevligt boende med ett av de bästa lägen i området! Sol på terrassen från morgon till kväll! Trevlig, lättillgänglig och hjälpsam uthyrare!
Rekommenderas varmt!
Lägenhet med underbar utsikt!
En fin lägenhet med en fantastisk utsikt i mysiga Nerja. Rekommenderas!
Casa Milton
I love this apartment so much.
The capistrano is in such a great location near to the beach – I could sit on the terrace and watch the view change over the course of a day for hours and hours.
It's really well equipped, nice and clean, and the steps from the beach help burn off the tapas calories : )
Patrice is really helpful and a great host too.
Capistrano Playa 709
Halloj!
This my 4 time att casa Milton .
And i like it , à perfekt for sumerholiday.
Its s nice flat.
👌👌👌
Bästa läget i Nerja
Vi har varit många gånger i Nerja och detta är det absolut bästa boendet vi bott på.
Rymlig och välutrustad lägenhet med två stora sovrum med bra förvaring. Köket har allt man behöver för att laga mat, våra frukostar åt vi på terassen som har milsvidd utsikt över havet i bästa söderläge.
Stor och bra TV med många kanaler och mysig soffgrupp att hänga i.
På terassen finns en loungegrupp, solsängar, matbord och grill.
Vi som har bil uppskattar verkligen att parkeringsplats erbjuds i garage.
Både jag och maken tränar ganska mycket och det var magiskt att köra styrkepass på terassen med fågelkvitter och havet i bakgrunden.
Varje kväll somnade vi till vågornas brus nerifrån Burrianastranden och gladdes åt att hela området är så tyst och lugnt. En oas mitt i underbara Nerja. Det är lätt att ta sig ned till stranden vi trappan i området, vägen via Tomaso eller åt andra hållet. Inne på området finns hiss från vägen. Det är mycket trappor o området men från garaget är det endast en trappa upp till lägenheten, som ligger högst upp i hela området. Ingen insyn alls.
Vi har verkligen njutit varje dag av att bo i Casa Milton och det är vårt förstahandsval nästa gång vi kommer till Nerja. Stort tack för att vi fick hyra och bo här i paradiset.

"We have been to Capistrano Playa several times and really like it there. The apartment is well equipped, with a great view from the balcony. All you need is provided. The owner is efficient and helpful. The apartment is clean and well looked after. We can highly recommend it. This apartment has all you need for a holiday. It is clean, well-equipped, and well maintained. The view from the terrace is beautiful. It must be one of the best locations in Nerja. Thoroughly recommended."
Chris Hess

"We spent 6 weeks in this wonderful apartment overlooking Burriana beach. The view is spectacular and on the terrace there are loungers and comfortable seats to enjoy this view. You enter capistrano playa through the lovely garden and reach the apartment after a short walk. Everything is available for a nice comfortable stay and if it gets colder in the evening in the wintermonths you can warm up the apartment with the heaters. We were sorry that we had to leave and hope to return soon."
Ilse Van Der Kellen
About us
We, who own apartment 709 in  Capistrano Playa ,  are Patrice och Mogens Milton. We live in a small village called Bjärred, just outside Lund  in Sweden.  We have owned the apartment since february 2015.  When the family isn´t there by ourselves, you have the opportunity to rent our lovely apartment. 
We are available for your questions before, during and after your stay,  just get in touch with us!
Välkomna till oss!
The apartment is registered by low at Spanish authorities.
Rental reference number, VFT/MA/-01289.